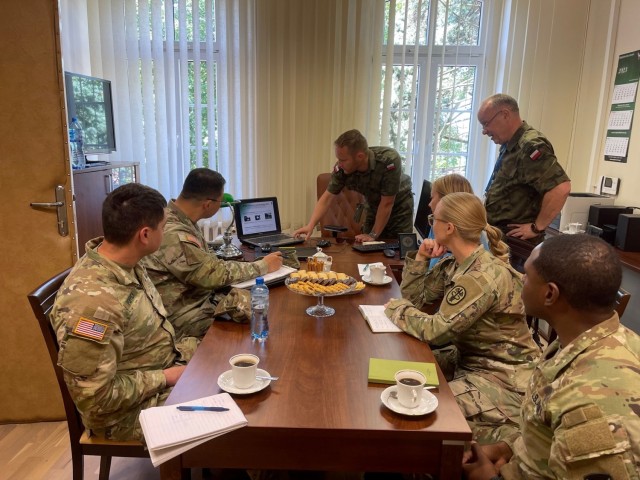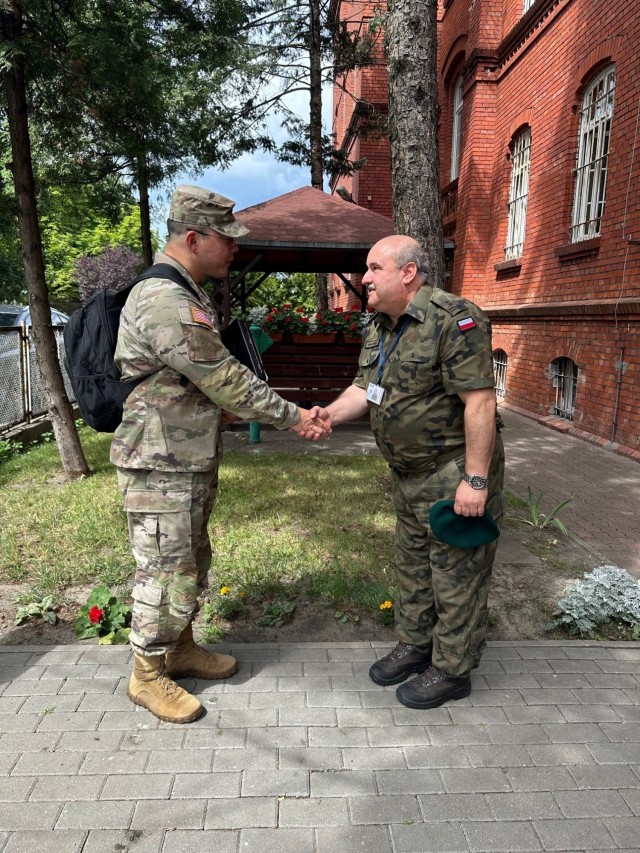 POZNAŃ, Poland – A team from Public Health Command Europe's Environmental Health Sciences Division recently partnered with Installation Management Command-Poland for an evaluation of drinking water supplied to Camp Kościuszko in Poznań, Poland, the home of U.S. Army Garrison Poland.
While on the ground, the team networked with 14 Wojskowy Oddział Gospodarczy (14th Military Administrative Department), the Polish military preventive medicine counterpart, to discuss synchronization of efforts and to share knowledge on different regulatory requirements.
U.S. Army, Public Health Command Europe, Environmental Health Engineering ensures service members, and their families have access to safe drinking water within the European area of responsibility.
"Our goal is to reassure our population that Poland provided drinking water meets or exceeds the highest standards for safety and palatability by validating in-place procedures, practices, and infrastructures. Developing relationships with host nation counterparts are paramount for this mission," said First Lt. Taylor Hughes, Public Health Command Europe's deputy chief of Environmental Health Engineering, a section of PHCE's Environmental Health Sciences Division that focuses on engineering and infrastructure. "Poznań is our first site for visitation because of its strategic importance and because of their water purveyor supplies from ultra modernized facilities. Nonetheless, we leave no stones unturned."
Ensuring safe drinking water is a long-term commitment.
"PHCE Environmental Health Engineering will partner with Installation Management Command-Europe over the next couple of months, maybe years, to execute this mission," said Hughes. "Service members in Poland should have confidence in their tap water, which frees up bottled water expenditures for other mission requirements."
According to the PHCE team, this trip created opportunities to develop key relationships with Polish subject matter experts who provided invaluable insights into Polish practices and lessons learned, that meets the needs of the host nation.
"Although the drinking water serving U.S. Army Garrison in Camp Kościuszko Poznań may be of good quality, we validate this presumption with eyes-on data. Our Department of Defense population must be reassured that we are doing the hard work behind the scenes to earn their trust," said Mr. Paul Gregorio, the lead project engineer. "We will continue to partner with Installation Management Command-Poland and our hosts to verify that potable and palatable drinking water is supplied to our service members."
Public Health Command Europe's Environmental Health Sciences Division will emplace experts to key locations in USAG-Poland for the purpose of assessing or establishing environmental baselines, including for vector-borne disease threats.
Public Health Command Europe provides integrated, comprehensive, and global preventive medicine and veterinary support that includes environmental health engineering, occupational and environmental medicine, laboratory services, health promotion and wellness, occupational health services, epidemiology and disease surveillance and veterinary services. This robust support capability is provided for garrisons, training areas, and contingency and combat forces operating in United States European Command, United States Africa Command, and United States Central Command. The broad range of support routinely spans across 40 countries each year.